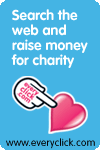 Here's a new easy way to raise money for Felix Fund – and it doesn't involve parting with extra cash.
everyclick.com has called it "Give as you Live". It means you can search the web, shop online from your favourite retailers, trade on eBay and raise money for Felix Fund.
You get great search results from Yahoo! and content from leading shopping providers and you can access to all eBay auctions. Every search you make creates a donation for charity.
After you click on the button all searches, shopping and eBay activity made from here will raise money for us.
Everyclick has already raised over £5.7million for charities around the UK, was voted website of the Year 2008 and has been recognised as a top 100 media tech company 2009.